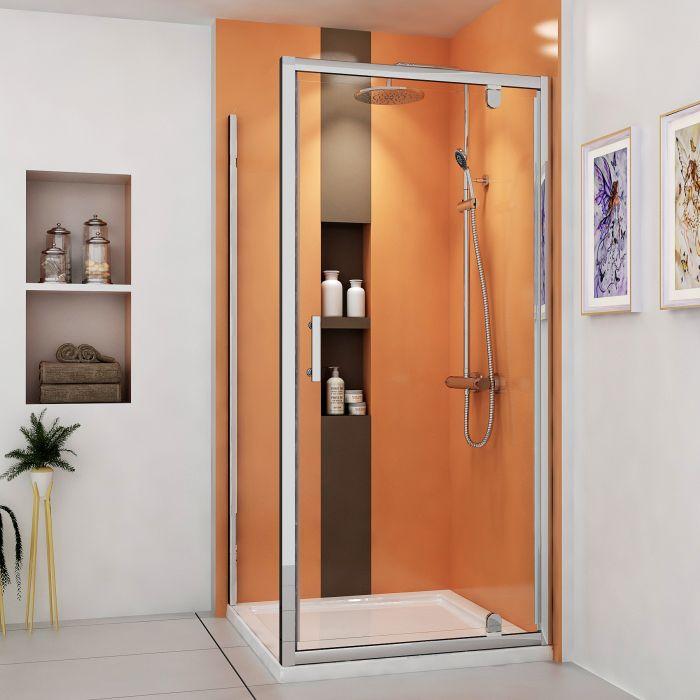 Pivot shower doors have pivot hinges attached to them which allow opening both outwards and inwards. So, it is the only door option that has 180 degrees swing possibility. There is flexibility in attaching the hinge that you can fix on either side for a normal operation. Otherwise, you can also place it in the center to turn it into a revolving door. You have many options for shower enclosure doors. But not every door is compatible with the type of enclosure you have in the Bathroom. These kinds of shower doors are suitable for bigger enclosures or where your door will be next to the wall. That is because you will have the widest opening for getting into or out of the shower area. If you have a power shower, then opting for this shower door will be a top choice.
Space Saving Characteristics
One of the biggest benefits of a pivot door is that it requires less clearance space as compared to other doors. That is because you can open them in any direction due to hinges attached on the upside and downside, making them moveable in any direction. So, if your Bathroom has less space, you can easily manage its opening in an inward direction without problems. Even if you use it in the outward opening direction, it will take significantly less space.
A Better Option for People with Limited Mobility
Not all shower areas may be suitable for the elderly or people with limited mobility who find it difficult to access the shower. The pivot shower doors have the widest opening among all shower doors, making them more accessible for limited mobility people. So, if you have someone in your home who has any such issues, this shower door can be a better and safest option for them.
Great for Creating Modern and Luxurious Look
You may not have realized, but shower doors significantly affect your Bathroom's overall look. Not all shower doors will look beautiful as the pivot doors. With the possibility of revolving at 180 degrees and opening in both directions, pivot doors look aesthetically beautiful and stylish. That perfectly matches with your requirements of creating a modern and luxurious look in the Bathroom. So, regardless of your Bathroom size, you can use pivot doors to create a contemporary feel.
Highly Durable and Strong
With the possibility of opening a shower door in both directions and hinges the allow it to revolve, pivot shower doors may seem a fancy option. However, these are durable opposition to general perception. That is pivot carries because the weight of the door at the bottom, making the mechanism strong. If you are looking for an ultimate durable option that works perfectly for many years to come, this is a suitable option for you.
Suitable for Small Bathrooms
With small bathrooms, you have limited options, as you will need to look for better use of space. Sometimes, you don't have enough clearing space for the shower door to open fully, and sliding doors may not fit well with a small shower enclosure width. In such cases, pivot shower doors can be a suitable option because, if you have less clearance space for the door to open outward, you can switch to the inward opening option. So, by opting for this type of door, you can solve small bathrooms' typical problem.
Buy pivot shower doors from Royal Bathrooms UK
Pivot shower doors have many advantages that make them a preferred choice for both small and large bathrooms. The pivot hinges on top and bottom create a unique opening in both directions. You can use it in small bathrooms where you have less clearing space than in large bathrooms where you want to create a stylish look with the widest shower area opening. Besides that, pivot doors are a brilliant choice that making your shower experience comfortable. Suppose you are interested in pivot doors for a shower enclosure or shower area. Then you can check our website for a variety of options to choose from.
Also read about:
Dell Precision 3440 A Core i7 Powerful Desktop PC
Garage Door Repair Woodstock A Great Help for Car Washers
Spring Is Here Is It Time to Avail Air Duct Cleaning Service Aurora